Ljubljana, the capital of Slovenia, is a dynamic Central European city lying at an altitude of 298 m above sea level in a broad basin between the Alps and the Adriatic Sea. It covers a surface area of 275 km2 and has a population of 276,000. Its climate is continental, with an average temperature of 3,4˚ C in January and 21,9˚ C in July.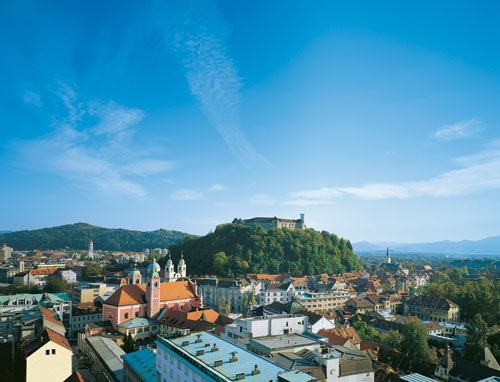 Ljubljana's geographical position has governed its colourful past, since it is situated on a natural passage leading from Central Europe to the Mediterranean and toward the East called the "Ljubljana Gate." It is not by pure coincidence that trade routes and waves of migration have passed through it since centuries. From the times of the first settlers right down to the present day, the transit character of this area has stimulated the constant growth of economic and cultural ties with other cities and nations.
From its very beginnings, Ljubljana's culture and lifestyle has been attuned to contemporary currents in Europe, while both the Central European and the Mediterranean spirit have influenced the temperament of its residents.
Ljubljana's economy has always been quite heterogeneous, enabling it to adapt rapidly to the ever-changing environment of the world economy. Ljubljana produces about 25% of Slovenia's Gross Domestic Product and has maintained a constant orientation toward long-term international business co-operation. An increasingly comprehensive, high-quality tourist and catering sector have complemented this process on one side and well-developed commercial activities on the other.
At present, the level of active working population is 62% and out of the total employed, 50% are women, 64% work in the economic sector and 36% in the public sector (according to the statistics for the year 2003). Industry is still the most important employer in the city (pharmaceuticals, petrochemicals, food-processing), and Ljubljana's industrial companies are among the major Slovene exporters. Retailing, financial and other business services, transport and communication, construction, skilled trades and services, and tourism and catering follow industry. In the public sector, employment is found in the fields of education and culture, followed by health care and social security, social organisations, and local administration.
Ljubljana is certainly a city with a high quality of life. It is a city of greenery, its very centre occupied by parks and forests, and it also represents an ideal departure point for the discovery of all the variety Slovenia has to offer. The unique Karst region, the Adriatic coast, the mountains, the hilly wine-growing regions, the spas, and many historic towns are all within a two-hour drive.
Ljubljana's appearance and flair has charmed many visitors. The traveller will find here a unique combination of a tranquil capital city bubbling with the spiritual energy of the nation.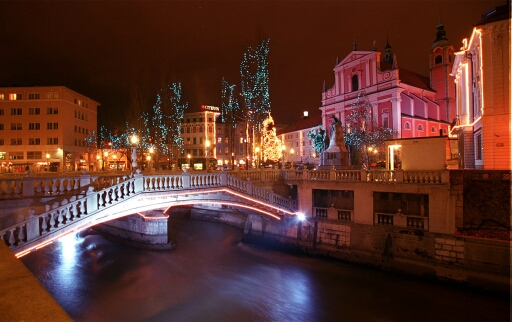 ---
Ljubljana is a vibrant city full of surprises, characterised by a unique fusion of complementing contrasts. It has everything that modern capitals can boast, but at the same time it has preserved the friendly and relaxing atmosphere of a small town. On the one hand, it is renowned for its rich historical heritage and tradition, but on the other, it is a young city with a modern lifestyle, whose population's average age is just above 30.
In winter it is its dreamy Central European character that stands out, while in the summer its characteristic feature is the relaxed atmosphere typical of the Mediterranean. Due to a large variety of most diverse features combined in a unique way, Ljubljana is a very special city full of pleasant picturesque places where a visitor can expect many nice little surprises.