Maribor is the capital of the region Styria (Štajerska) and the second largest city in Slovenia with an estimated population of 119.000 residents. The city is small, surrounded by the Pohorje hills on one side and wineyard hills on the other, and through the town flows the river Drava.
Maribor offers a rich wine tradition with the oldest vine in the world, a great city pulse with its flourishing cultural history, one of the most beautiful city parks in Europe, the green Pohorje hills with various possibilities for exploring, recreation and relaxation and events like Festival Lent, the Old Vine Festival, Festival Maribor, the theatre festival Borstnikovo srečanje, FIS Ski World Cup event Zlata lisica and numerous other event that enliven Maribor's everyday life.'
Festival Lent is an international multicultural festival and the peak of summer life in Maribor, usually beginning on the last week of June. Enjoy more than 14 days of excellent concerts of classical, jazz, pop and ethno music, theatrical and dance performances, folklore dances. You shouldn't miss the after parties in the Minorite Church either.
The hills of Pohorje
• sporting and free-time opportunities: skiing, hiking, cycling,
• unspoilt nature: primeval forest, a peat moor with lakes (Lovrenc lakes, Črno, Ribniško), the waterfalls Veliki and Mali Šumik.
How to get to Maribor? And getting around in Maribor!
By train http://www.slo-zeleznice.si/en/
By bus http://www.ap-ljubljana.si/eng/
By car http://www.slovenia.info/?by_car=0&lng=2
By airplane http://www.slovenia.info/?by_air=0&lng=2
Rent a bike (the best way to get around in Maribor) http://www.maribor-slovenia-travel-guide.com/getting-around.html
Lodging&boarding
Dormitory
The dormitory in Tyrševa street is near the city park, has 705 beds, student room, washing room, TV room, fitnes, mutimedia centre-CYBER STUDENT-which is located in ground flor of building 1, bar Enka and party room Afric in building 2.
Food
All exchange students will get two free meals per day: a free meal everyday in the hospital cafeteria and everyday one free student bone, which is valid in almost all restaurants.
Hospital of your internship/elective
University Medical Centre Maribor (Slovene: Univerzitetni klinični center Maribor, commonly abbreviated UKC, seat at Ljubljanska 5 in Maribor)
Exchange conditions
• AF (filled completely with all required information!)
• 4 photographs
• Letter of motivation (very important because we give it to the mentors!)
• Official study record from university showing all courses studied
• Letter stating in which year/semester the student is enrolled in
• Vaccination documents – Hepatitis B
• Recommendation letter
• English language certificate
• Health insurance (upon arrival)
All of our exchange students in Mariboru have to fill out the IFMSA Logbook.
Weather
Slovenia lies in the northern moderate warm zone, in a region where there is twice as much rain and snowfall as is valid for the world average, and consequently the Slovene countryside is pleasantly green.
Maribor shares a strong Pannonian influence, and that is why the amount of rainfall in the city is somewhat lower (on an average 1050 mm per year). The most rain falls in the period from April to July, mostly as showers and heavy rain. In summer it can be quit hot, the temperature also reaches 30 degree Celsius, but there can come days when it's windy and rainy. So if you are wondering what clothes to take: besides summer clothes you might bring some warmer clothing. And don't forget your swimming suits.
Daily news for weather in Slovenia http://www.weatheronline.co.uk/Slovenia.htm
Social program
Our Local Comitee will do their best to make you feel comfortable. The social programme will consist of sports, movie nights, daytrips, bowling, walking tours, biking tours (very popular in our region), sightseeing and much more… There will be a winetasting with delicious traditional food, welcome dinner, some organized parties, etc. On weekends we will organize trips around the country. If you are interested in the seaside, mountains and Slovenian cultural heritage, you are more than welcome to join. One such weekend trip costs around 100€.
And don't forget: first week of July, there is the biggest multicultural festival in this part of Europe – Lent festival. We will organize things you want to do, so give us your suggestions.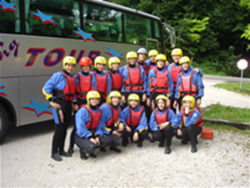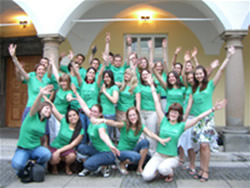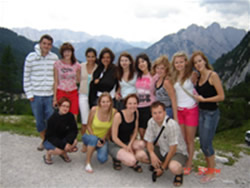 Internet acess
• free: at the dormitory, the university and at the library in UKC Maribor (hospital)
• internet café near the University on the Glavni trg square
Don't miss our nature!
For those who intend to stay for several days/weeks to visit the country, we recommend:
the seaside (Piran, Portoroz),
the mountains (the highest mountain in Slovenia is Triglav within Triglav National Park http://www.tnp.si/national_park/, where is also the lake of Bohinj,
Bled renowned for its island on the lake Bled and old castle above the lake [3],
the capital Ljubljana,
Postojna cave, The Skocian caves http://www.park-skocjanske-jame.si/eng/,
Logarska Valley http://www.logarska-dolina.si/ang/index_a.html,
The largest ski jump in the world in Planica,
a nice alpine village Kranjska Gora,
Soča Valley, the valley of the emerald river which attracts those looking for peace as well as fans of adrenaline sports http://www.adrenaline-check.com/.
Any questions?
Izmenjave DSMM email hidden; JavaScript is required
Local exchange officer email hidden; JavaScript is required
LORE Maribor SloMSIC email hidden; JavaScript is required